In order for us teachers to look after the wellbeing of our students, it is imperative that we first look at ourselves. With excessive workloads and pressure becoming the norm, it is no wonder that 67% of teachers claim that their job has adversely impacted their mental or physical health. The summer holidays is the perfect time to make some proactive decisions around what YOU are going to do to ensure YOU look after YOUR OWN wellbeing. I have written this post to share the small steps I have taken to be positive, reduce stress and start to gain a bit more of a work-life balance.
A few months ago I came across an app (only iOS), Productive, that has quite literally changed my life. I still feel the stresses and burdens of the day to day, but I now ensure that I make time for myself as well as my loved ones. Productive is a habit forming app with the idea being that you set up a routine for your day/week/month that you stick to. Each time you complete a habit (or at the end of the day) you swipe to say which ones you have completed and you start a streak. Once you get a streak going, you are likely to want to keep it going so are more likely to stick to your newly formed, positive habits.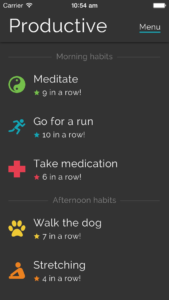 Setting up is a breeze with it's intuitive design and large, bold icons. There are around 50 pre-written habits you can choose to add to your day split into 6 sections: Health, Fitness, Home, Hobbies, Social and Efficiency. You can also easily create your own habits and assign them an icon. Each habit can be daily, weekly, fortnightly or monthly and you can schedule them to any time of the day. You can ask the app to remind you about a habit if you wish or you can just check in with the app manually to remind yourself. Here are some examples of habits I have created (I won't list them all!)
Run over 4k at least 3 times a week
Cook dinner at least once a week (this is an improvement for me!)
Bath time with Raheem (my gorgeous son) daily
Inbox zero – Make sure I respond, file or schedule follow ups for all of my emails daily. I tick this off if at some point in the day my inbox is at zero.
Junk food free day – Currently aim for 6 days a week on this!
Arrange to meet a friend at least once a fortnight
Read for 10 minutes daily – This forces me to start reading and I usually carry on
Show appreciation daily – This is either to a member of my family, a friend or a colleague
Various house chores like vacuuming or putting out the bin
Send a positive email – Reminds me to take the time to send a thank you email to a colleague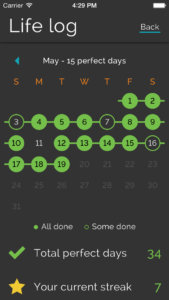 Now some of these things I probably did a lot of the time anyway, but including them in this way ensures that I make a point of doing them regularly – besides, I like swiping to say I have completed them!
Why not download the app and start thinking about the habits you would like to form when you go back to work in September to ensure you have a balanced start to the year.