As regular readers will know, I do like puzzle games that involve a bit of maths. The other day I came across a fantastic free iOS app (also available on Android) jointly created by MEI and the Sigma Network called Sumaze! which really hit the spot.
Sumaze! is a puzzle game in which you are required to move a tile through a number maze to get to the goal. There are various 'gates' in the way that can only be passed through if your tile displays the correct number. There are 7 sections (see below) containing 14 levels which obviously increase in difficulty as you go.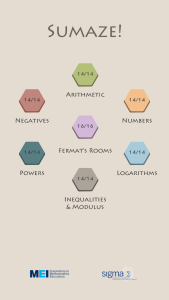 I managed to complete it fairly quickly, although I struggled a little on the later levels! The level shown below, particularly had me stumped for a while, although there was a simple solution in the end.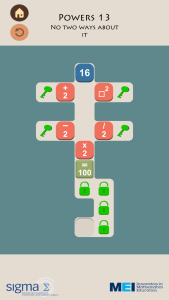 Below is a quick video guide and review.
I imagine Sumaze! could be used with A-Level students after they have been introduced to logarithms and modulus functions. I would be interested, however, in using it with GCSE students as the way the game is designed, students would pick up on things like the modulus function and logarithms through experimentation. The best part of the game is that it really challenges your problem solving skills, particularly in the later levels. I really hope they work on introducing some more levels as the concept is fantastic!
If you like puzzle games, be sure to check out this post.