Having used Create A Test for a couple of months now, I thought I would do a short post to share my thoughts on it. If you haven't heard of Create A Test, it is a new(ish) web based maths assessment creator designed to replace the likes of Testbase and Exampro. I have in the past found the latter mentioned two resources to be frustrating to say the least. They are both far from user-friendly (although the more recent versions of Testbase have been an improvement) and clunky to use. In today's day and age of Web 2.0, I was excited to try something a little more current.
In terms of this, Create A Test definitely delivers! It has a sleek, modern design that oozes class and simplicity. The front page is tidy and the menus and buttons are clear; other than the odd bug here and there, it mostly works flawlessly. Although there are video tutorials included on the site, everything is rather intuitive so I didn't feel the need to watch them. There are lots of extra features which I am yet to explore so maybe these videos will prove useful at some point.
So far, I have personally created a couple of tests and a homework revision sheet and overall as a department, we have created about 12 assessments. From what we have seen, we are all very impressed!
There are 3 versions available: Primary, KS3/GCSE and A-Level. Questions are searchable by topic, grade(?) and tier. This part of the site works well in my opinion and the search results are displayed clearly as a scrolling list of the questions. I like the fact that Latex is used in the creation of the questions (this is lacking in both Exampro and Test Base) as it gives everything a clean feel.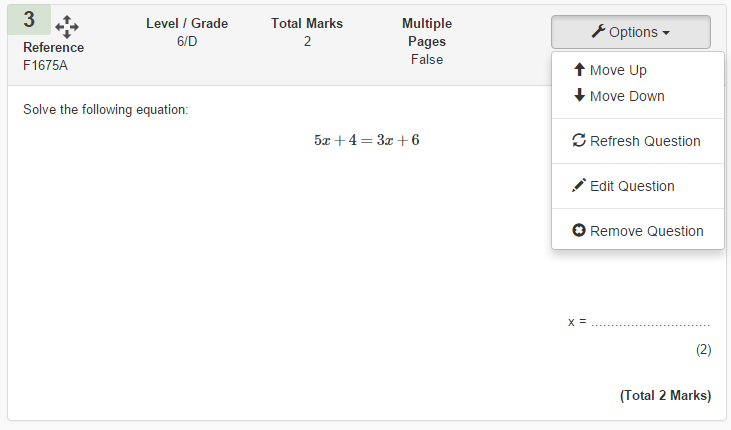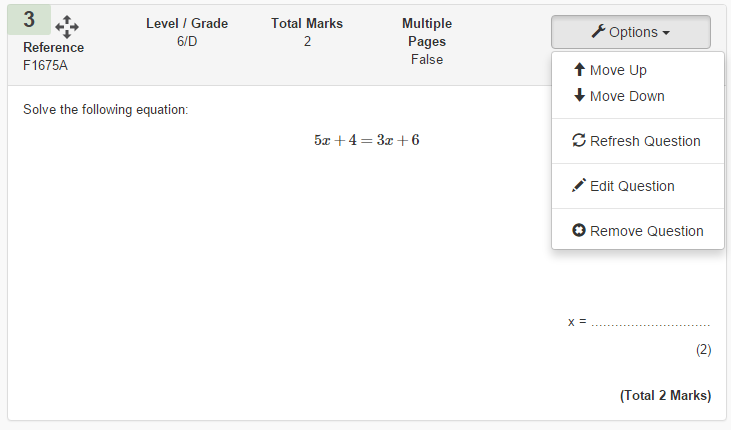 Next to each question is a menu which, among other things, allows you to 'refresh' or 'edit' the questions. Refreshing gives you a different version of the same question, selected at random. This is a great feature which would allow you to create a different paper for students sat next to each other so they can't copy. You could also give students one version of an assessment at the start of a module to assess prior knowledge, and then give a different assessment at the end to see how much progress they have made. Clicking on 'edit' allows the user to create an alternative version of the question which is then added to the Create A Test database; another great feature which adds to the 'community' feel of the website.
Below is a video, highlighting just how quickly it is to create a test.
Having explored all of the versions, the area I would like to see improve are the number of variations available for each question. In the KS3/GCSE version, there are about 2 or 3 variations for most questions. In the A-Level version, most questions don't have any variations at all. Also, I'm a little unsure how much time is spent vetting any new questions added by users. It is a great feature to allow users to create and add their own questions, but this needs to be closely monitored by Create A Test as I have found one or two questions that don't work (see below). Maybe a 'report this question' feature would be useful addition.
Edit 26/10/2015: Within minutes of this post, the question has been fixed! I have also been told that they will work on bringing a 'report this question' feature.
Edit 09/11/2015: 'Report this question' has now been added to the site. Great work!
Overall, this is a fantastic tool that seems to get better and better. Although there is a free version, there is enough in the premium version to make the upgrade worthwhile. At time of print the cost is £150 for the primary, £350 for KS3/GCSE and £250 for the A-Level. We have now decided to create all of our assessments at KS3 and GCSE using Create A Test. I absolutely recommend it!