Root tracker – Nrich activity that paves the way for students to use prior learning to discover complex numbers for themselves.
Complex numbers 1 – Smart Notebook- Introduction into imaginary numbers.
Complex numbers 2 – Smart Notebook- Calculating with complex numbers
Complex numbers 3 – Smart Notebook- Some examples to work through with students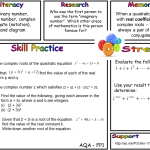 The videos below are by Jack Brown.