Series – Smart Notebook – Covers the whole topic.
Series 1 – Powerpoint – Sigma notation and splitting a series into separate summations.
Series matching activity – A Great activity by Susan Wall.
Series Geometric proof – A proof of the identities.. See pics below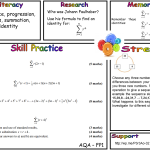 The videos below are by Jack Brown.