Due to popular demand, I have created a set of 5 "Essential Skills" sheets for Core 1. They are aimed at the AQA syllabus but could easily be adapted to suit others.
The idea of these is to help students who are currently on D grade or below and to give them regular practice of the important concepts explored when studying Core 1. Hopefully, as students work through the sheets they become more confident and perform better when tackling past paper style questions. I have also included a record sheet to track progress. The pack can be found here.. Feel free to distribute and amend as you see fit (I have kept everything in Word format).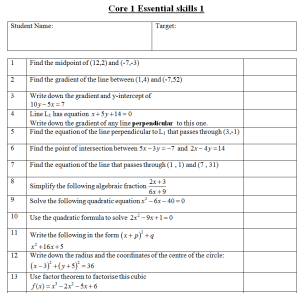 I'm not actually teaching Core 1 so these haven't been tested.. Please let me know if you spot any errors! I will put together answer sheets at some point too.
Edit: I have now also created a Core 2 pack as well which can be found here
photo credit: Robert S. Donovan via photopin cc